RTP Genesis No-Till Drills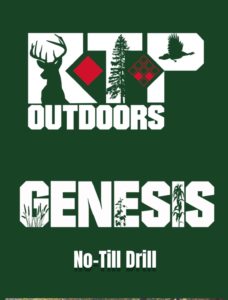 Introducing the world's first no-till food plot drill, designed by hunters, for hunters: the Genesis.  The Genesis is a true no-till drill that will plant a variety of food plot seeds in the ground even in the toughest soil conditions.  The Genesis features tempered cutting discs spaced at 7.5 inches apart, that slice into the soil then plants the seeds in the slits that are created by the discs.  The slits are then closed by solid rubber packing wheels  that trail behind the discs.  With the Genesis, you will have outstanding seed to soil contact even when cutting through standing vegetation, unlike our competitors who use harrow discs to turn the soil then "drop-n-stomp", hoping to see seed germination.  The Genesis leaves no exposed seeds to wash away or be eaten by wildlife.  Why waste time and money on seed, time and time again, when you can plant it right the first time?  The seeding mechanism is simple to calibrate and extremely accurate all while working with a variety of seed sizes and even seed blends/mixes without the need for a second seed box.  With the Genesis 3, 5, 8, and 10, we have a drill to fit your needs!
Genesis…plant it right from the beginning!
CALL (248) 705-5836 FOR PRICING OR FOR MORE INFORMATION!
Description